Hej (that's Swedish for hello), and welcome to my obligatory 'about me' page.
Secretly Swedish Design Co. is me, Mark Gamble, and I'm not Swedish at all. I'm socially awkward (on the Autism spectrum), a bit of a geek (LEGO, music, craft beer, film) and I love pizza and Irn-Bru. I also enjoy more respectable and cliché pursuits, such as hiking, walks on the beach at sunset, and long bubble baths.
Here, you can find out why I became a designer, what inspires me and why I work under the guise of Secretly Swedish. If you don't like reading, or simply don't care about any of that, I've included some nice, big pictures of things that I like.
Thanks for stopping by.
GRAPHIC DESIGN.
ILLUSTRATION.
BRANDING.
For over 13 years, I've been working as a Graphic Designer, Illustrator and Design Director. I'd like to be doing it for at least another 13…
From about the age of 6 I wanted to be a comic book artist. At age 16 I had failed GCSE art (thanks a lot, Mr. Hastings), and gave up on the idea of ever doing anything creative with my life. Skip ahead a few years, and I found myself at The University of Lincoln, studying Interactive Design. I may have been a terrible artist, but I still had an affinity for typography, composition and colour.
My love of design wouldn't exist without my love of music, film, comics and Mid-century modern. Oh, and visual propaganda from World War 2 and Soviet era Russia. For as long as I can remember, I have been fascinated and inspired by album artwork, gig posters, graphic novels and branding from the 60's and 70's. Given the prominence of halftones, thick lines, faux offsets, bold typography and brights colours within my work, I don't think anyone would question where my inspiration comes from.
A by-product of those obsessions, is a long term love affair and appreciation of print design. The world may be going digital, but I will never tire of seeing a beautifully designed screenprint, or a unique gatefold vinyl sleeve. If I happen to be the one designing within that medium, even better.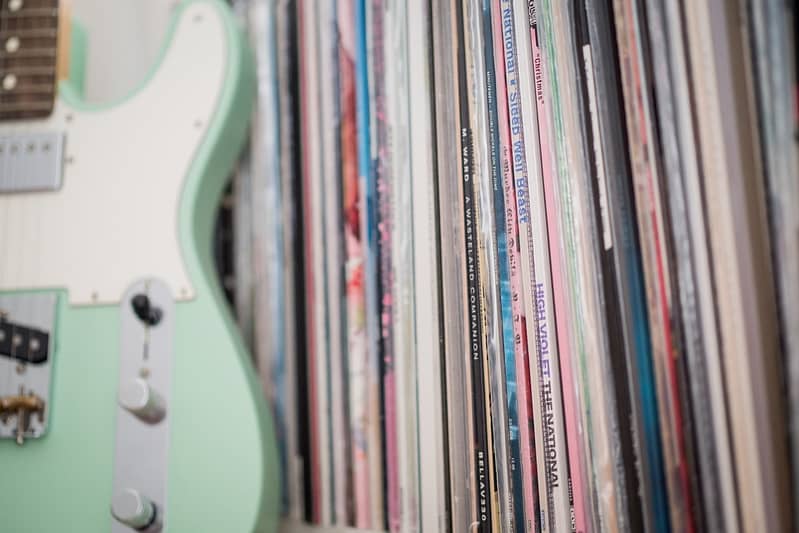 Picture the scene: Soho, London, 2007. It's a Tuesday night, and I'm at Madame Jojo's night club, dancing the night away to whatever Indie Rock the White Heat DJ's are playing…
TV on the Radio? Los Campesinos? Hot Chip? Who really knows. Who even cares!? I have "peak hair". Shoulder length, tussled golden locks, with a sweeping fringe. The frames of my glasses are blue or red, depending on the colour of my shirt, because they would've had to match.
From across the sticky dance floor, a small figure weaves their way through the sweaty bodies. We start talking. She's Scandinavian. At some point she asks "Are you secretly Swedish?". Maybe it was the hair, beard, glasses combo. Most likely, it's because I would have, undoubtedly, professed my love of Gothenburg, Jens Lekman, Shout Out Louds and The Radio Dept. Regardless, in that moment, Secretly Swedish was born. 
13 years on, the design alias of Mark Gamble has stuck. My hair is well and truly gone, and I've traded the mayhem of London for Melbourne. But, I can still be found dancing around my home studio to Los Campesinos and Jens Lekman. And, hopefully, I've become a better designer than I have a storyteller.
I'm always looking to work with new people on exciting projects – whether that's in Melbourne or from further afield.
From bands to breweries, charities to record labels, small businesses to global megacorps, I've got over 13 years of experience and have heard "Can you make the logo bigger?" more times than I care to remember. And no, I won't make the logo bigger – trust me, it's the perfect size.
If you'd like to have a chat about working together, want to discuss a potential project, or just have a question, feel free to drop me a message.